Looking to set up an appointment?
Check back in January 2020 for information on how to set one up.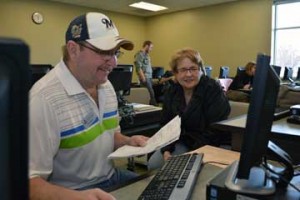 The Volunteer Income Tax Assistance (VITA) program provides low-income households with assistance in filing their income taxes, helping families to claim any tax credits for which they are eligible. Services are available in Portage, Waupaca and Waushara counties from late January to mid-April.
No prior tax preparation experience is necessary, and there are volunteer opportunities that don't actually involve preparing taxes.
We are looking for volunteers who:
Have strong interpersonal communication skills
Are comfortable working with people from diverse life circumstances
Are enthusiastic, flexible, and have a desire to help people move from "getting by" to "getting ahead"
Will work with individuals in a positive, respectful and empowering manner
Can commit to weekly volunteer shifts during the tax season
Why Be a VITA Volunteer?
You Benefit: You will meet new people who share your values of community service. You may also be eligible to earn Continuing Education Credits (CEUs) for participating.
Families Benefit: The additional income families receive from tax credits and refunds can be directed towards savings and education goals, debt reduction, medical expenses, and other important uses. In 2019, the average refund was nearly $1,500.
Communities Benefit: Research shows that every dollar received by low- and moderate-income families has a multiplier effect of between 1.5 to 2 times the original amount in terms of its impact on the local economy. Using the conservative estimate that for every $1 in tax refunds, $1.50 is spent locally, the impact of CAP's 2018 VITA season was nearly 2 million dollars in economic activity for central Wisconsin communities.
CAP has the following volunteer opportunities available
Note: Depending on the size of the VITA site and how busy it is, volunteer needs vary and sometimes volunteers will be asked to perform multiple roles. For instance, some locations might ask the tax preparer to greet and sign-in a client before preparing their taxes. However, volunteers will never be asked to volunteer in any capacity they find uncomfortable or are not trained/certified to do.
Project Partners include: