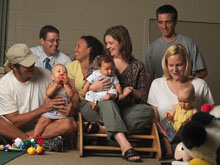 The Family Resource Center provides education and resources to Waushara County residents.
In-Home Parenting Education
CAP Services' Parent Educator provides support and guidance to parents seeking to improve their skills and relationships with their children. Using evidence-based resources from Nurturing Parenting and Triple P (Positive Parenting Program), the Parent Educator meets with families in the home and tailors the education to meet the needs and desires of the family.
Parenting Education is provided through a partnership with Waushara County's Department of Human Services.
Help Me Grow
CAP Services' Help Me Grow Navigator supports protective factors among families so that children can grow, develop, and thrive to their full potential. The Navigator provides referrals and connections to developmental services and community resources using the national Help Me Grow evidence-based model. Help Me Grow Navigation is provided through a partnership with First Five Fox Valley.
Why Call Help Me Grow?
Call if you are:
Wondering about your child's development, behavior or learning
Needing support to access services
Assisting a client, family member or friend to seek information about developmental services
The Help Me Grow Navigator will:
Listen to your concerns to help you decide which referrals are right for the needs of your family
Find services that are appropriate and available for referrals
Connect you and your child to services
Follow up to ensure that your needs are met
For additional information, contact:
Ashley Podoll
Parent Educator & Help Me Grow Navigator
920-647-6815
apodoll@capmail.org