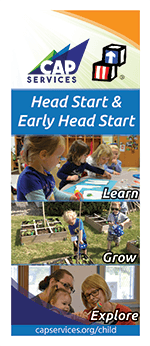 EARLY HEAD START

Early Head Start is a federally funded program, locally designed and implemented, providing quality prenatal and early childhood development services to low income children and their families. The program is comprehensive and involves the family in the total development of the child.
Parents are a child's first teacher and have the longest lasting influence on their lives; therefore, parent involvement is a vital part of the program. Families with children ages zero to three and pregnant women are encouraged to apply anytime throughout the year. Families whose children have special needs are also encouraged to apply.
TWO EARLY HEAD START PROGRAM OPTIONS ARE AVAILABLE.
Classroom Option (for two-year-old children)
This is a full-year option that offers a classroom experience for the children.
Home-Based Option (for pregnant women and children ages 0-3)
Early Head Start services are offered year-round in your home for 1 1/2 hours, once a week – 2x per month for pregnant women. Children and families also experience a group socialization. This options is available in Marquette, Portage, Waupaca, and Waushara counties.
EARLY HEAD START OFFERS:
Early childhood education with a developmentally appropriate curriculum
Prenatal services
Health and nutrition
Special needs services
Parent involvement
Family development
Community partnerships
For additional information, contact:
Michelle Osier
715-343-7539
mosier@capmail.org