CAP Services' Community Assets for People (CAfP) provides low-cost capital to households and businesses owned by, or providing significant benefit to, low-income and moderate-income individuals.
Start-ups face difficulty accessing financing because they lack the financial track record most lenders require. When business financing is needed, our Small Business Assistance staff works with clients to identify sources that might include CAfP, local economic development corporations and/or local banks. CAfP also provides gap financing to ensure thriving businesses are able to expand when those businesses already have a bank relationship.
Staff underwrite loans just as a bank might but, by design, may take on riskier deals to ensure opportunity for low-income business owners or to facilitate job creation for low-income individuals. Rates and terms are determined by the business and need but generally fall in a 4 – 8% range.
Business lending includes both micro-lending for business starts, and lending for expansions.
CAP Services' Business Development staff provides technical assistance services to business start-ups and expansions that can include business plan development, market/feasibility assessment and understanding business financials (both pre- and post-loan).
All housing lending (homebuyer down payment assistance and housing rehabilitation) is directed at low-income households (up to 80% County Median Income). CAP's Homebuyer Assistance Program provides low-rate simple interest loans with payments deferred for up to 30 years (or sooner if the home is sold or is no longer the primary residence of the buyer). Households may also secure financing to make improvements in their homes to meet the U.S. Department of Housing and Urban Development's Housing Quality Standards.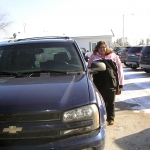 CAP's auto purchase program, Work-n-Wheels, started in 2009 in response to growing needs of low-income, working households for reliable transportation. Eligibility for the program limits household income to 150% of the federal poverty guideline (e.g., $30,240 for a family of three in 2016). Loans are made up to $5,000. Cars purchased through the program may be modest but still provide increased dependability for those who need a reliable vehicle to keep their jobs.