Community Assets for People (CAfP) provides low-cost capital to households and businesses owned by, or providing significant benefit to, low-income and moderate-income individuals.
In the 1980s, CAP Services, Inc. recognized that economic distress in the region could be addressed through improving access to personal and business capital. To meet that goal, revolving loan funds were created to support business creation and growth and to offer homeownership opportunities. CAP Services created Community Assets for People (CAfP) as its lending arm in 1991 with the sole mission of providing low-cost capital to households and businesses owned by – or providing significant benefit to – low-income individuals. In partnership with CAP, CAfP provides business loans, home mortgage loans and consumer loans (auto) in six central Wisconsin counties: Marquette, Portage, Outagamie, Waupaca, Waushara and Wood.
CAP Services staff work closely with CAfP loan clients to provide development services and customized business technical assistance services. Each strive to bring new living-wage jobs and value-added businesses into the community through responsible investment of capital.
Community Assets for People, LLC maintains certification as a Community Development Financial Institution (CDFI) by the U.S. Treasury and has received capital investments from the CDFI Fund for use in business lending. The portfolio is further capitalized by loan fund investments from the USDA and other private sources. U.S. Department of Agriculture-funded capital helps meet borrower needs in rural Central Wisconsin.
To better serve borrowers in more urban markets, CAP Services, Inc. successfully qualified as a Small Business Administration (SBA) Microlender in 2013.
Business lending plus technical assistance,
the perfect combination.
Business Lending
Start-ups face difficulty accessing financing because they lack the financial track record most lenders require. When business financing is needed, our staff works with clients to identify sources that might include CAfP, local economic development corporations and/or local banks. CAfP also provides gap financing to ensure thriving businesses are able to expand when those businesses already have a bank relationship.
Staff underwrite loans just as a bank might but, by design, may take on riskier deals to ensure opportunity for low-income business owners or to facilitate job creation for low-income individuals.
Rates and terms are determined by the business and need but generally fall in a 4% – 8% range.
Business lending includes both micro-lending for business starts, and lending for expansions.
Business Technical Assistance
CAP Services' Business Development staff provides technical assistance services to business start-ups and expansions that can include business plan development, market/feasibility assessment and understanding business financials (both pre- and post-loan).
Other Lending
Housing

All housing lending (homebuyer down payment assistance and housing rehabilitation) is directed at low-income households (up to 80% County Median Income). CAP's Homebuyer Assistance Program provides low-rate simple interest loans with payments deferred for up to 30 years (or sooner if the home is sold or is no longer the primary residence of the buyer). Households may also secure financing to make improvements in their homes to meet the U.S. Department of Housing and Urban Development's Housing Quality Standards.
Auto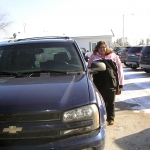 CAP's auto purchase program, Work-n-Wheels, started in 2009 in response to growing needs of low-income, working households for reliable transportation. Eligibility for the program limits household income to 150% of the federal poverty guideline (e.g., $30,240 for a family of three in 2016). Loans are made up to $5,000. Cars purchased through the program may be modest but still provide increased dependability for those who need a reliable vehicle to keep their jobs.
Make an investment in the future of your community!
Community investing, a subset of socially responsible investing, allows for investment directly into community based organizations. Community investing institutions, like Community Assets for People (CAfP), LLC, use investor capital to finance loans to individuals and organizations that have historically been denied full access to capital by traditional financial institutions. These loans are used for housing, small business creation, (and sometimes education or personal development in the U.S.), or are made available to local financial institutions abroad to finance international community development. The community investing institution, as is the case with CAfP, typically provides training and other types of support and expertise to ensure the success of the loan and its returns for investors.
Community investing grew almost 5% from 2012 to 2014. Assets held and invested locally by community development financial institutions (CDFIs) based in the US totaled $64.3 billion at the start of 2014, up from $61.4 billion in 2012 as more and more look for a double (return and social impact) or triple (return, social impact and environmental impact) bottom line.
CAP Services, Inc. and CAfP, its wholly-owned Community Development Financial Institution (CDFI) has earned the trust of numerous loan fund investors.
To learning more about making an investment, please contact Mary Patoka, President & CEO at 715-343-7512 or mpatoka@capmail.org.
2015 Loan Fund Investors:
BMO Harris Bank, NA
Community Foundation of Central Wisconsin
Delta Dental Plan of Wisconsin
Federal Home Loan Bank of Chicago – MPFE
Incourage Community Foundation
JPMorgan CHASE Foundation
Opportunity Finance Network
Packer Apartment Corporation
School Sisters of Notre Dame
The Congregation of the Sisters of St. Agnes
The Sisters of St. Dominic – Racine
USDA – Rural Micro-enterprise Assistance Program (RMAP)
USDA – Intermediary Relending Program (IRP)
USDA – Rural Business Economic Grant Program (RBEG)
US Bank
US Treasury – CDFI Fund
Wisconsin Energy Corporation Foundation
Wisconsin Council on Churches
Wisconsin Department of Transportation
Wisconsin Division of Housing
Making a difference one client at a time.
For additional information about CAfP contact: