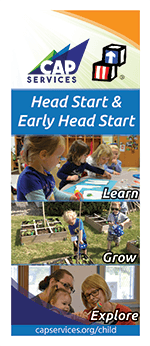 HEAD START

Head Start began in 1965 as part of President Lyndon Johnson's "War on Poverty". Federally funded by the United States Department of Health and Human Services, this early childhood program for income eligible and special needs pre-school children and their families provides comprehensive services in the areas of early childhood education, health, and family and community partnerships. Both center-based and home-based options are available.
Parents are a child's first teacher and have the longest lasting influence on their lives; therefore, parent involvement is a vital part of the program. Families with children ages three to five are encouraged to apply anytime throughout the year. Families whose children have special needs are also encouraged to apply.
Research shows that Head Start produces long term benefits and significant cost savings by reducing grade retentions, school dropouts, delinquency, substance abuse, and referrals to special education.
CAP Services provides Head Start services in Marquette, Portage, Waupaca, and Waushara counties.
TWO HEAD START PROGRAM OPTIONS ARE AVAILABLE.
Center-Based (a classroom experience)
The program operates both part-day and full-day options. Contact the center nearest you to see what options are available in your area.
Home-Based (services in your home)
Head Start services are offered in your home for 1 1/2 hours once a week, for 32 weeks. Children and families also experience a group classroom socialization.
HEAD START OFFERS:
Early Childhood Education with a Developmentally Appropriate Curriculum
Health and Nutrition
Special Needs Services
Quality Child Care
Parent Involvement
Family Development
Community Partnerships
Transportation
Head Start centers are located in Marquette, Portage, Waupaca, and Waushara counties. Click below for contact information.