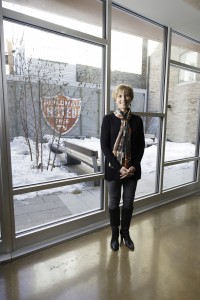 Mary Patoka has served as President and CEO of CAP Services since January of 2009. She joined CAP in 1994 as Director of Family Services and was promoted to Vice President in 2000. Her responsibilities included management of several human-service programs, including domestic violence and sexual assault victim services, Hmong and Hispanic Services, the Skills Enhancement, Fresh Start and Project TEAM (family mentoring) Programs, and CAP's Family Resource Center. She was promoted to Chief Operating Officer in January of 2008.
She is currently a Board member of the Wisconsin Community Action Program Association, Impact Seven, and WHEDA's Greater Wisconsin Opportunity Fund. She also sits on the Advisory Board of the Cinnaire Advisory Board and is a member of the Federal Home Loan Bank of Chicago's Community Investment Advisory Council.
She previously served as a member and chair of the Portage County W2 Steering Committee, a member of the Safe and Stable Families Initiatives (Portage, Waupaca and Waushara counties), the Education and Program Standards Committees of the Wisconsin Coalition Against Domestic Violence, the Wisconsin State Refugee Advisory Board and the Prevent Child Abuse Wisconsin Board.
Patoka received a certificate in Predictive Index Management in 2001 and is certified as an Economic Development Specialist by the National Development Council. She was the recipient of the 2007 Portage County Community Circle Professional Excellence Award and the 1996 Wisconsin Community Action Program Association Outstanding Employee Award. She completed Harvard Business School's "Strategic Perspectives in Non-Profit Management in July, 2012.
She lives in Amherst with her husband David. Their son, Andy, a recent University of Wisconsin-Madison graduate, recently located to Tuscon, AZ.