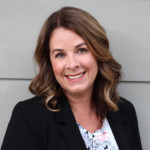 Nicole Harrison was named President and CEO of CAP Services June 16, 2020.
Harrison has been with the agency since 2001, most recently as Chief Program Officer (CPO).
Harrison holds a bachelor's degree in Psychology from the University of Michigan. She is a Certified Family Development Specialist from University of Iowa School of Social Work, and holds a Certificate of Excellence in Nonprofit Leadership and Management from University of Wisconsin – Extension. Harrison received the Wisconsin Community Action Program Association's Richard Strand Exceptional Community Action Staff Member Award in 2008.