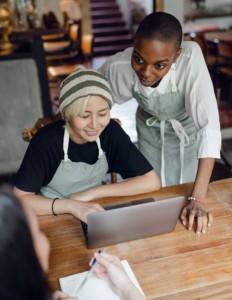 The Skills Enhancement Program is a locally designed workforce development program that assists working, low-income individuals obtain the skills needed to compete for living wage jobs. The program assists with tuition, books, and training-related transportation and child care costs that participants could not otherwise afford.
CAP Services offers the Skills Enhancement Program to residents of Marquette, Outagamie, Portage, Waupaca and Waushara counties whose incomes are at or below 200% of the federal poverty income guidelines. To be eligible, participants must be working at least 20 hours a week while enrolled, and must pursue training for occupations that pay a living wage and typically offer employer-sponsored health insurance.
See if you qualify!
Click the button below to be taken to an online screening form. If you qualify, an application will be sent to you to be completed.
Alternatively, you may download the screening form by clicking here. Completed screening forms should be sent to Kim Calmes:
by mail to 821 E. 1st Avenue, Suite 3, Appleton, WI 54911;
by email to kcalmes@capmail.org;
or by fax to 920-832-9566.
For additional information, contact: