Now accepting applications for 2 – 2 1/2 year olds! Call 715-544-4991 to enroll today!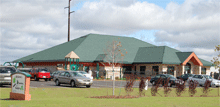 In October 2009, CAP opened a new child care facility in the Portage County Business Park in Stevens Point to meet the needs of the families in the community and surrounding areas. The Children's Discovery Center offers quality child care, on-site four-year old kindergarten, and educational services to children ages six weeks to six years. The center operates full year and offers full- and part-time enrollment slots and is open to ALL families in the community regardless of income.
Year-round, state-licensed facility
Open 6:00AM – 6:00PM
Highly qualified staff – over 30 years of experience
Community 4 year old kindergarten site
Head Start site
Developmentally appropriate activities
Health consultants available
Field trips/resource visitors
Healthy, clean and safe environment
Competitive full-day and part-day rates

Find us on facebook:
CAP Services Early Childhood Development
Parent Newsletters:
At Children's Discovery Center every child, no matter what their stage of development, is treated with respect, presented with steps to achieve their goals and develops self-confidence to go to the next step.
Both of our girls have been with the Children's Discovery Center/CAP Services since birth. Our youngest will be entering kindergarten in the fall. I couldn't ask for more friendly, caring, and qualified staff and teachers for our children. They have always been as flexible as possible with our schedule and needs. Thank you to all the amazing staff and teachers for being there for our children for the last 8 years!
Thank you to some pretty awesome caregivers! We appreciate all that you do!
Our family really enjoys the monthly family gatherings. Gabby and Elly like doing the activity associated with the meal. We always have a great evening!