WEATHERIZATION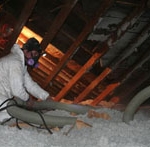 CAP's Weatherization Program weatherizes income-qualified homes identified by the Wisconsin Home Energy Assistance Program (WHEAP). WHEAP provides CAP with a referral list of qualified homes for eventual follow-up to determine owner/tenant interest in participating in the program.
Annual energy costs of some of these homes exceed $3,000, and all are occupied by low-income families. High energy consuming homes weatherized in 2007 showed that weatherization reduced the annual energy usage of these homes by an average of 30 percent and as much as 50 percent.
Energy savings are achieved by: installing attic, wall, crawl space, water heater and hot water pipe insulation; sealing air leaks into the home; and, installing low-flow shower heads, faucet aerators and energy-efficient light bulbs in every home. Based upon the projected energy savings, furnaces, refrigerators and freezers may also be replaced.
To be eligible, homeowners or renters must qualify for and receive Energy Assistance. Priority for weatherization of these homes is determined by the state. Homeowners, whose annual income is at or below 60 percent of Wisconsin State Median Income, receive weatherization services at no cost. Landlords whose tenant's annual income is at or below 60 percent of Wisconsin State Median Income and pay the heating bill also receive this service at no cost to the landlord. If the tenant's heat is included with the rent, there is a nominal 15% fee of the actual cost of the project that is charged to the property owner.
Contact information for Wisconsin
Energy Assistance Program offices
or for NO Heat Emergencies
Marquette County
1925 59rh Street
Kenosha, WI 53140

(262) 657-2170
Portage County
1224 Strongs Ave
Stevens Point, WI 54481

(715) 344-5999
Waupaca County
1300 Royalton St
Waupaca, WI 54981

(715) 258-6820
Waushara County
220 N Oakridge Ct Ste B
Wautoma, WI 54982

(920) 787-1830
Homeowners who do not qualify for Energy Assistance may qualify for other programs through Focus on Energy. For more information they may be contacted through their website at:focusonenergy.com or by calling 800-762-7077.
Click on Home Energy + for income guidelines and more information on Weatherization programs.
CAP Services provides weatherization services in Marquette, Portage, Waupaca and Waushara counties and has weatherized more than 9,500 homes since 1976.
For additional information, contact:
Housing Program Specialist
715-343-7164
cap.weatherization@capmail.org
REHABILITATION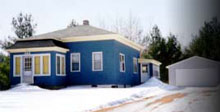 Housing rehabilitation funds are provided to low-income homeowners as a deferred loan that is due upon sale of the home, if the home is no longer their primary residence, or 30 years from the date of the loan origination. Households eligible for the 0% interest loans must have annual incomes at or below 80% of the county median income.
Repairs eligible for funding include, but are not limited to, roof work, siding, foundation repair, handicap accessibility, door and window repair or replacement, plumbing, electrical, heating system and water heater replacement, and lead hazard reduction.
CAP performs an assessment of each home to determine what work is needed to meet HUD Housing Quality Standards. In order to qualify for the loan, the homeowner has to agree to all the recommended work. Rehabilitation work is performed by contractors selected by the borrower from an approved list.
CAP Services administers 15 Community Development Block Grant housing rehabilitation programs in five counties.
For more information, contact:
Housing Program Specialist
920-787-7696
housingrepairs@capmail.org