Annually, CAP Services hosts three events during the month of May to showcase its programs, giving local residents a first-hand look at the -struggles low-income families face and how Community Action programs help these families achieve financial security. Due to the COVID-19 global pandemic, CAP has spread these events throughout the year and events will be virtual with the exception of Trivia Unplugged at this time.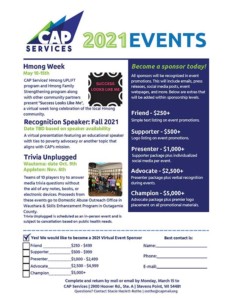 Event sponsorships offer a way for you to support CAP Services' mission while growing your brand. Proceeds of your sponsorship go beyond providing a safety net for low-income individuals and families – they create opportunities for people to move from poverty to independence.
The deadline for 2021 sponsorship commitments was March 15, 2021. If you are still interested in sponsoring 2021 events, please contact Stacie at contact Stacie at 920-257-4966 or srothe@capmail.org.