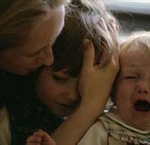 The Family Crisis Center (FCC) provides assistance to victims of domestic violence and their families, friends and care providers. Services include shelter, a 24-hour-a-day toll-free crisis line, walk-in counseling, accompaniment for medical care and legal proceedings, referrals, and support groups. All services are free of charge and confidential.
Violence can happen to anyone. You don't have to be alone. FCC welcomes the opportunity to serve individuals of all backgrounds and identities. FCC also collaborates with Deaf Unity to provide co-advocacy for Deaf and hard of hearing victims of violence.
The FCC provides assistance to youth and their parents/guardians in crisis including youth who are runaway, homeless, pushed out of the home, or who need temporary respite. Services include shelter, a 24-hour-a-day toll-free crisis line, walk-in counseling, mediation, referrals, and support groups.
The FCC also provides educational programs to the community, schools, and faith and community organizations.
EMERGENCY SHELTER
CAP's Family Crisis Center offers a safe place to stay for victims of domestic violence and their children. Food is provided. Staff assist domestic violence victims and their children in identifying alternatives to the problems they are experiencing. Families are also provided with assistance in completion of temporary restraining order petitions, obtaining child care, transportation, housing, etc.
EMERGENCY SHELTER/INTERVENTION FOR YOUTH-IN-CRISIS
Temporary shelter, crisis intervention and referrals to appropriate agencies for additional assistance are available for runaway youth and youth-in-crisis. Short-term shelter is also available with parental permission. A 24-hour hotline is available to respond to youth in crisis. Family mediation referrals and follow-up are provided to youth and parent guardians.
SUPPORT GROUPS
Ongoing group meetings for female victims of domestic violence are available. A children's group is also available. All are designed to help victims understand domestic violence and facilitate healing.
TRANSITIONAL LIVING
Offers low-cost rental housing for families in need when they leave the Crisis Center. Fourteen units are available for up to two years with rent based on income. Intensive family development and support services are offered in conjunction with housing services.
HMONG FAMILIES
CAP also provides specialized, culturally sensitive domestic violence services to Hmong families.
COORDINATED COMMUNITY RESPONSE TEAM PROJECT
Facilitates interagency and "inter-system" communication and collaboration to develop local policies responsive to the needs of victims of domestic violence and sexual assault and to hold perpetrators accountable.
For additional information contact:
Family Crisis Center
1-800-472-3377
715-343-7125
1616 West River Drive
Stevens Point, WI 54481