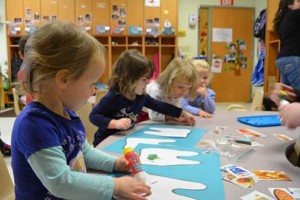 CAP Services' Children's Discovery Center in Stevens Point recently earned a five-star rating from Wisconsin's YoungStar program for a fifth straight year.
"Quality child care is our focus," said April Niemi, CAP's assistant director of Early Childhood Development. "The five-star rating affirms our staff's daily dedication to provide high quality care to the children we serve."
YoungStar is a program of Wisconsin's Department of Children and Families created to improve the quality of child care for Wisconsin children. Among other activities, YoungStar evaluates and rates the quality of care given by child care providers. A five-star rating is the highest rating the agency awards.
YoungStar reviews includes unannounced classroom observations, assessments of indoor and outdoor space, review of materials and activities offered to children. Staff is also interviewed about their roles, policies and business practices.
Niemi said quality child care reduces the gap between disadvantaged and other students, improves learning ability, and improves interpersonal relationships. Studies show that the benefits of that foundation last into adulthood as well.
"Quality early childhood programs ensure that children are ready for school and families are ready to support their children's learning, allowing children to thrive in all learning aspects of physical, cognitive, social, and emotional development," said Niemi.
For more information, visit capservices.org/cdc or contact Niemi at 715-343-7540 or aniemi@capmail.org.