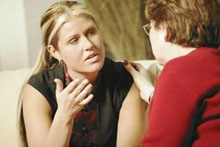 CAP Services offers domestic abuse intervention services through offices in Stevens Point, Waupaca and Wautoma as well as through the Family Crisis Center in Stevens Point.
DOMESTIC VIOLENCE INTERVENTION
Services are available 24 hours a day by telephone (1-800-472-3377). Walk-in services are available week-days from 8:30 a.m. to 4:30 p.m. Services include domestic abuse education, support and advocacy services.
SUPPORT GROUPS
Ongoing support groups are offered for domestic abuse victims and those in controlling relationships. A children's group also is available. All are designed to help victims understand domestic violence and facilitate healing.
COORDINATED COMMUNITY RESPONSE TEAM PROJECT
The project facilitates interagency and "intersystem" communication and collaboration to develop local policies responsive to the needs of victims of domestic violence and sexual assault and to hold perpetrators accountable.
For additional information contact:
Stevens Point
1608 West River Drive
715-343-7129
Waupaca
101 Tower Road
715-258-9575 ext. 201
Wautoma
205 East Main Street
920-787-3889