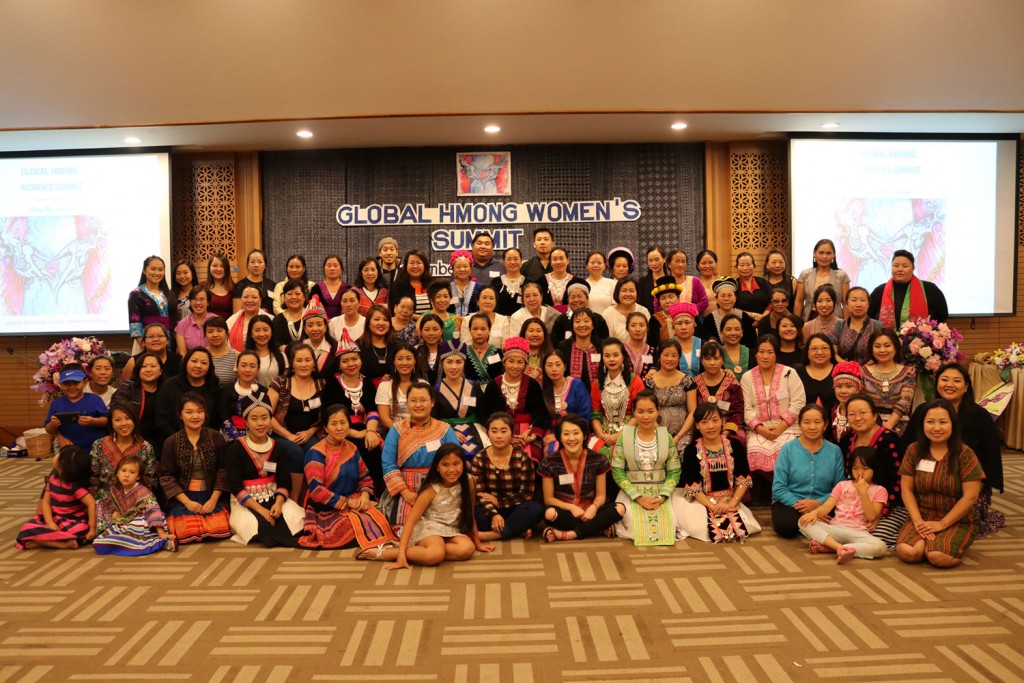 Chai Moua, whose work as CAP Services' Hmong Family Strengthening Program coordinator focuses on addressing domestic violence in the Hmong community, recently returned from six weeks of work and travel in Southeast Asia. Her trip was highlighted by her attendance at the first Global Hmong Women's Summit in Chiang Mai, Thailand, December 19-24.
The Summit, which Moua helped organize, had the goals of establishing a strong global network of Hmong social justice activists working towards gender equity, as well as providing an opportunity for women to exchange knowledge and experiences with one another about critical issues challenging their communities.
"We came together to build sisterhood to end violence," said Moua. "We were there to support each other and learn from each other. To ask, how do we help those that are affected here (in the U.S.) and how do we affect those from other countries?"
More than 100 community change agents and movement builders from around the world attended the Summit, including advocates from the United States, France, Thailand, Laos and Vietnam.
Moua said the Summit increased her appreciation and respect for the work of her fellow advocates, many of whom receive little pay and face routine threats of physical violence.
"These women do organizing work to create a society they can live in, that can give women better equality," said Moua. "It's pushed me to fight more. I will carry the stories of all of these women with me. These stories ground me, and help me to see things from their side."
Moua said another key takeaway from the Summit was broader agreement among advocates about the connection between LGBTQ advocacy in gender equality work around the world. She said was inspired by groups in Thailand that work directly in support of families with lesbian, gay, bisexual, transgender, and queer (LGBTQ) members and that U.S. Hmong advocates are not as active in this area. "We think we're above and beyond, but actually, we're behind," she said.
The Summit has roots in Wisconsin, where advocates began working on the issue of abusive international marriages in 2007, before there was a name for the issue. According to the
2012 Abusive International Marriage Report, published by the Asian Pacific Islander Institute on Domestic Violence, "(t)his issue surfaced when Hmong women throughout the state of Wisconsin started privately sharing the same stories – husbands leaving, sometimes disappearing, for weeks and then returning home with news of a second wife in Laos, Thailand, Vietnam, or China."
Abusive international marriage has some similarities to human trafficking, but advocates coined a new term to better capture "all of the cultural, social, and community components of the practice" and to avoid stigmatizing the brides.
Moua has helped organized all the gatherings for the Abusive International Marriage group since 2007, and helped organize the first National Abusive International Marriage Summit in Minnesota in 2014.
From there, U.S. advocates formed the Building Our Future global community campaign to strengthen overseas collaborations and facilitate work on the issue at an international level. That work culminated in the Summit.
"Who knew that a conversation that started in 2007 in Wisconsin would lead to this?" asked Moua.
Funding for the conference came through the direct fundraising efforts of the organizers who were responsible for their own travel and expenses, as well as fundraising an additional $75,000 to pay for the venue and to defray costs for other attendees. Major sponsors included: Team Her, Pebmoob Senior Center, Asian Pacific Institute on Gender-based Violence, Bao Vang, Ellen Bush, Bo Thao-Urabe, Kabzuag Vaj, KaYing Yang, Freedom Inc., Hmong American Women's Association, Hmong Cultural Center, Eau Claire Area Hmong Mutual Assistance Association, Dr. Kathie Culhane-Pera, LaCrosse Hmong Advocates, BCPhotos Fresno, Charlie Rounds & Mark Hiemenz, Hli Xyooj, Padee & Zong Yang, Man Forward, The Lotus Beauty Spa, U.S. Consulate General Chang Mai, PLIA Hair salon, Dr. Fenglaly Lee, Maria & Guy Scandlen, Martha & Jon Butt, Judge Gail Chang Bohr & Richard Bohr.