Help Transform People and Communities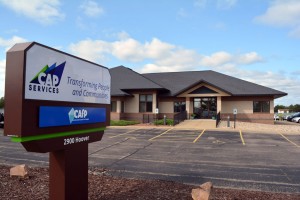 CAP Services is over three quarters of the way to its $300,000 Capital Campaign goal to help with the purchase and renovation of its new 2900 Hoover Road location.
Our goal was to reach goal by the end of 2017 but will continue to accept donations until we do.
Help us get there by making a tax-deductible financial gift today!
Diamond ($50,000+)
Delta Dental of Wisconsin
Ruby ($25,000+)
Victor & Christine Anthony
Emerald ($10,000+)
Great Lakes Higher Education Guaranty Corp.
Jeff & Joan Budelier*
Seramur Family Foundation, Inc.
Scaffidi Motors, Inc.
Theda & Tamblin Clark Smith Family Foundation, Inc.
Mary & Bob Berard
Edward J. Okray Foundation
Peters Family Foundation
Simplicity Credit Union
Sapphire ($5,000+)
Worth Company
Edward J. Okray Foundation
Mary Patoka & Dave Onan
Pointe Precision
Skyward, Inc.
Resource One Installation & Service*
Kwik Trip
Ellis Construction Company
Wisconsin Public Service Foundation
Antioch Foundation
Ann & Bob Shannon
Patty & John Noel
Anonymous
Pearl ($2,500+)
John Gusmer
Marshfield Clinic Health Systems
Opal ($1,000+)
Associated Bank
Investors Community Bank
Brett & Darcy Jarman
Bull's Eye Credit Union
Bushman Electric Crane & Sign*
Steel King Industries
Marg Coker-Nelson
Krause Foundation
Deb & Marc Wolding*
River Cities Bank
Laura West
International Bank of Amherst
Quartz ($500+)
Den & Linda Brown
Donaldson
Jim & Debbie Weishan
Ward Wolff/First Weber Foundation, Inc.
Berkshire Hathaway Specialty Concierge
Pineries Bank
Hometown Bank
Amethyst (up to $500)
Furniture & Appliance Mart*
Jeanette Patoka
Pioneer Bank
Herb Kohl Philanthropies
White Pine Consulting Service
Gregg & Kathy Hansel
Jim & Mary Ann Krems
Ed Severson
Bill's Pizza Shop
Susan Sippel
Jean Pyfer
*indicates in-kind donation