Help Transform People and Communities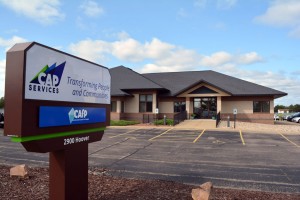 CAP Services is 80% of the way to its $300,000 Capital Campaign goal to help with the purchase and renovation of its new 2900 Hoover Road location.
Delta Dental of Wisconsin accounts for $50,000 of the total raised so far and has pledged an additional $10,000 matching gift to help CAP achieve its fundraising goal. Delta Dental, a longtime funding partner with CAP and St. Michael's Foundation on the Ascension (formerly Ministry) Dental Center, will match $1 for every $2 raised from now through August 15th, 2018.
To make a tax-deductible gift, visit capservices.org/donate and select the "Capital Campaign Fund" as your designated fund.
To donate offline, please indicate "Capital Campaign Fund" in your check's memo line and send to:
CAP Services
2900 Hoover Road, Suite A
Stevens Point, WI 54481
To arrange a corporate gift, please contact Mary Patoka at 715-343-7512 or mpatoka@capmail.org.
Donors:
Diamond ($50,000+)
Delta Dental of Wisconsin
Ruby ($25,000+)
Victor & Christine Anthony
Dale & Annette Schuh
Emerald ($10,000+)
Great Lakes Higher Education Guaranty Corp.
Jeff & Joan Budelier*
Seramur Family Foundation, Inc.
Scaffidi Motors, Inc.
Theda & Tamblin Clark Smith Family Foundation, Inc.
Mary & Bob Berard
Edward J. Okray Foundation
Peters Family Foundation
Simplicity Credit Union
Sapphire ($5,000+)
Worth Company
Mary Patoka & Dave Onan
Pointe Precision
Heartland Farms
Skyward, Inc.
Sentry Insurance Foundation
Tim Copps
Resource One Installation & Service*
Kwik Trip
Ellis Construction Company
Wisconsin Public Service Foundation
Antioch Foundation
Ann & Bob Shannon
Patty & John Noel
Anonymous
Pearl ($2,500+)
John Gusmer
Marshfield Clinic Health Systems
Opal ($1,000+)
Associated Bank
Bank First
Donaldson
Investors Community Bank
Brett & Darcy Jarman
Bull's Eye Credit Union
Mark & Tina Arend
Bushman Electric Crane & Sign*
Steel King Industries
Marg Coker-Nelson
Jim & Cathy Martin
Krause Foundation
Deb & Marc Wolding*
River Cities Bank
Laura West
International Bank of Amherst
Quartz ($500+)
Den & Linda Brown
Jim & Debbie Weishan
Dale Skibba Painting*
Ward Wolff/First Weber Foundation, Inc.
Berkshire Hathaway Specialty Concierge
Pineries Bank
Hometown Bank
Amethyst (up to $500)
Furniture & Appliance Mart*
Jeanette Patoka
Pioneer Bank
In memory of Joan Yrios
Herb Kohl Philanthropies
White Pine Consulting Service
Gregg & Kathy Hansel
Jim & Mary Ann Krems
Ed Severson
Bill's Pizza Shop
Susan Sippel
Jean Pyfer
Andrew & Erin Trzebiatowski
*indicates in-kind donation