Hmong Week
May 9 @ 10:00 am

-

May 14 @ 11:00 pm
Join us for Hmong Week, May 19-14, 2021! We will be celebrating Hmong Week with a mix of in-person and virtual events this year and have a lineup of events that you won't want to miss. Follow "Sib Pab Sib Qhia" on Facebook or visit our Facebook events page where you can RSVP for all events.
We are looking forward to celebrating Hmong Week with you all again!
May 9, 10-11 am at Point Market & Vietnamese Restaurant
Kickoff, Proclamation & Folk Song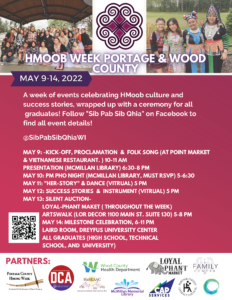 Join us at Point Market & Vietnamese Restaurant as we start the week off with a proclamation that will be delivered by Mayor Mike Wiza to our local veterans followed by a traditional HMoob Folklore song performed by Zong Yang.
May 10, 6:30 – 8:00 pm at McMillian Memorial Library
Food brings everyone together! Grab a sample of Pho at McMillan Memorial Library in Wisconsin Rapids and learn about how this dish has been introduced to and changed within the homes of Central Wisconsin! Once you have had your pho, the video will roll!
There will be no cost for this event however we will have only 30 spots available, so please RSVP as soon as possible.
May 11, 5:30 pm
Ntxhais Xob Laim and Twilight have prepared videos to air on Wednesday, May 11th! We'll live stream the videos at 5:30 pm, and they'll be available to view any time after that!
In addition to dance, Hlee, a new member of the Sib Pab Sib Qhia team, will share her experience relocating to the United States much later than the first waves of HMoob refugees.
May 12, 5 pm
HMoob Instrument & Success Story
Have you ever heard a Qeej instrument? Join our livestream to hear a demonstration by Tub Dhia qeej! These instruments are significant to HMoob culture, used in funerals and in rituals directed towards a variety of spirits however some qeej performers now use it to play at events like New Years and other large celebrations.
As a part of "Success Looks Like Me," attendees will hear a story from Diana Yang a HMoob community member.
May 13, 5 pm
We're assembling works and products from local HMoob artists and business owners for a gallery at Lor Decor during ArtsWalk & Night Market. Items will be up for sale and in a silent auction; all proceeds will be invested into the Sib Pab Sib Qhia scholarship program!
The Silent Auction will also be displayed all week at Loyal-Phant Market in Wisconsin Rapids!
While you're visiting with artists, don't fret about winning! Bidders don't need to be present to win but must be prepared to pick up their winnings within a week of the event.
May 14, 6 – 11 pm at UWSP Dreyfus Center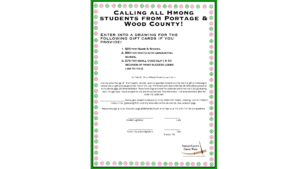 Our students have been working exceptionally hard to reach their own academic milestones. This year we're recognizing HMoob students and close friends as they complete a step in their journey! All graduates (high school, technical school, university) will be celebrated!
Join us in the Laird Room of the Dreyfus University Center at UWSP! The event will kick off with a CEREMONY followed by snacks and a dance party featuring Leng Yang, Chin Chilla, Leng Yang, Cindy Yang, Arty Yang and DJ NK!
HMoob Week is made possible by partners of CAP Services, Create Portage County, Portage County Literacy Council, McMillan Library, Loyal-Phant Market, Wood County Health Department, Diversity & College Access, Hmong & Southeast Asian American Club, and Family Center.
Share This Story, Choose Your Platform!