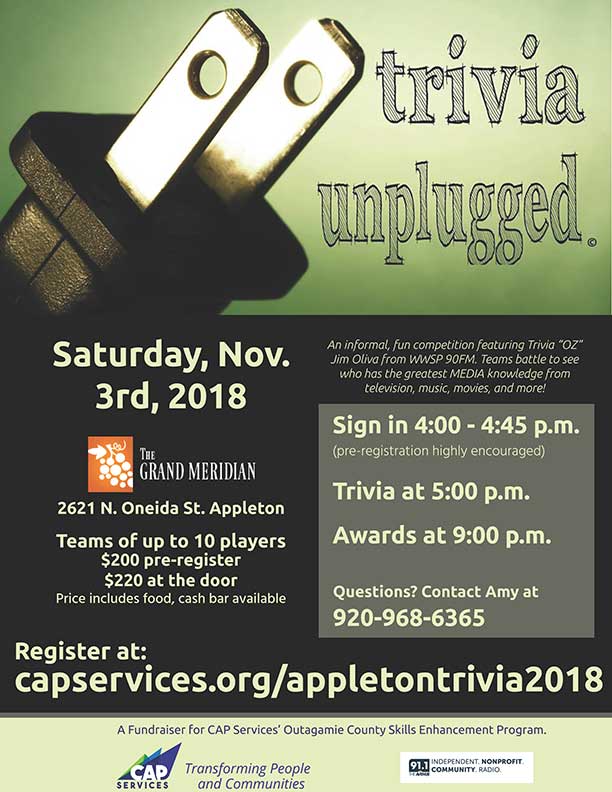 Appleton Trivia Unplugged 2018
November 3, 2018 @ 5:00 pm

-

9:00 pm

|

$200
Trivia Unplugged, a fun twist on a popular central Wisconsin trivia contest, will be held at the Grand Meridian in Appleton on Saturday, Nov.

 3

, as a fundraiser for CAP Services' Skills Enhancement Program in Outagamie County.
Registration 'Plugged'
Register and pay by credit card online. Entries must be complete by 5 p.m. Thursday, Nov. 1.
Fill out form below, click send, then follow the payment link in your confirmation email to complete the registration process.
Registration 'Unplugged'
Register and pay by check through U.S. mail or in person at our Appleton office. Mailed entries must be sent by Monday, Oct. 29.
To register and pay by mail/in person.
1. Print and complete the registration form.
2. Mail your completed registration along with a $200 check payable to CAP Services to:
Amy Verhagen
821 E. 1st Ave. Suite 3,
Appleton, WI  54911
Entries must be postmarked by Monday, Oct. 30.
OR
Bring your completed registration and check to the above address during regular business hours (Monday – Friday from 9 a.m. – 4 p.m.).
Entries must be dropped off by 3 p.m. Thursday, Nov. 1.

For general registration questions please contact Amy Verhagen at averhagen@capmail.org or 920-968-6365 x6365.
If you are having trouble using the webform or PayPal gateway contact Matthew Brown at mbrown@capmail.org or 715-343-7516.
Trivia "unplugged" will run from 5 to 9 p.m. at Grand Meridian, 2621 N Oneida St., Appleton. The family friendly contest will challenge teams of 4 to 10 players to test their pop culture and media knowledge with questions about radio, television, music, sports, and other topics.
Jim "The Oz" Oliva, long-time co-writer and organizer of WWSP 90FM's Trivia Contest at UW-Stevens Point, will write the questions and host the Appleton event.
Unlike the radio contest, teams at the Appleton event will not be able to use electronic devices to search for answers as the rules prohibit cellphones, computers, and communications devices. Books and outside paper are also not allowed.
Teams will be asked a total of 64 questions, 16 questions per hour over four hours of the event. Points will be determined based on how many people answer correctly – the fewer the number of correct answers, the higher the points, and vice versa. The team with the highest point total at the end of the night takes home a trophy.
Pre-registration is encouraged and costs $200 per team (day-of registration costs $220 and is dependent on available space). Team registration may be completed either online through using a credit card, or by mail or in person using a check.
Share This Story, Choose Your Platform!